WWII PROJECTOR, INFANTRY, ANTI-TANK (PIAT) Mk I
This week's exhibit at our "micro" museum located at "SEBARMS Guns, Gear and Collectibles" focused on the anti-tank weapon used by Commonwealth troops during the Second World War. 
Claude Villeneuve of Valor Park Association (VPA) brought a Projector, Infantry, Anti-Tank (PIAT) Mk I and bombs.  
Designed in 1942 and based on the spigot mortar system, the PIAT projects a 2.5 pound (1.1 kg) shaped charge bomb using a cartridge in the tail of the projectile.  Its effective range was approximately 110 yards (100 m).  The PIAT saw it first use during the Tunisia Campaign in 1943 and replaced the Boys Anti-Tank Rifle which was firing a .55-inch armored piercing cartridge.  The PIAT had two advantages.  First, its shaped charge bomb could penetrate the armor of modern German tanks, something the Boys anti-tank rifle could not do with its .55 caliber armor piercing cartridge. Second, since it is not a rocket launcher but a "projector", there was no backblast and so it could fire in an enclosed area.  The PIAT was operated by a team of two soldiers: a firer (number 1) and a loader (number 2).  The firer had to be prone, however, as the weapon could not be fired while crouching or standing.  About 115,000 PIAT were made during the war and many were delivered to the resistance networks by the Special Operations Executive (SOE).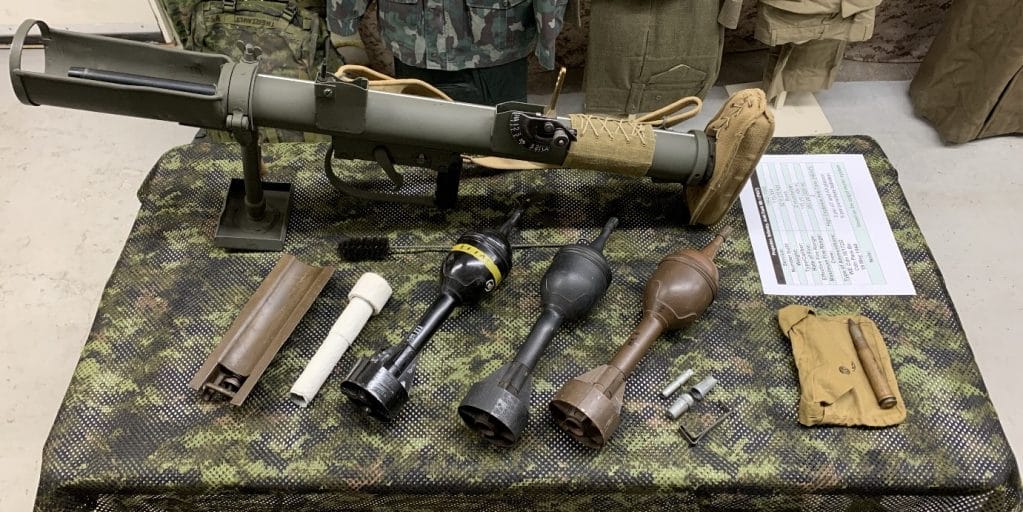 Here is the list of items that were displayed. 
The PIAT has a unique place in Canadian military history. During the Battle of the Savio River in Italy, on the night of 21-22 October 1944, Sergeant Ernest Alvia "Smokey" Smith of the Seaforth Highlanders of Canada won the Victoria Cross (VC) for his brave actions in defeating a German Panther tank with a PIAT.
There will be more to see from our Quartermaster so…come to see us!  The VPA's "micro" Museum is located at SEBARMS Guns, Gear and Collectibles, 11569 – 149 Street, Edmonton, Alberta, T5M 1W9. 

The museum's hours of operation are:
Tuesday: from 10 to 15 hours.
Wednesday: from 10 to 15 hours.
Thursday: from 10 to 15 hours.
Friday: from 10 to 15 hours.
Until next time,
The Quartermaster