THE SECOND WORLD WAR BREN LIGHT MACHINE GUN 
This week's exhibit at our "micro" museum located at "SEBARMS Guns, Gear and Collectibles" focused on the light machine gun used by Commonwealth troops during the Second World War.
Claude Villeneuve of Valor Park Association (VPA) brought a Bren Light Machine Gun (LMG) Mk II made in 1943 by John Inglis and Company from Toronto.
The LMG, familiarly known as Bren Gun, was a replacement for the First World War bulky, complicated, and fixed barrel Lewis LMG who had a relatively high rate of stoppages. The Bren Gun was a licensed version of the Czechoslovak ZGB 33 light machine gun which, in turn, was a modified version of the ZB vz. 26. The name Bren derived from Brno, the Czechoslovak city in Moravia, where the Zb vz. 26 was designed (in the Zbrojovka Brno Factory) and Enfield, site of the British Royal Small Arms Factory. The designer was Václav Holek, a gun inventor and design engineer. The Bren Gun featured a distinctive 30 cartridges top-mounted curved box magazine, conical flash hider, and quick-change barrel. Production in Canada began at the Inglis Toronto based factory in 1940. A total of approximatively 500,000 were made from 1938 to 1971 in its five different versions: Mk I, II, III, 4, and L4 (conversion to 7.62×51mm NATO). In the British Army, the Bren Gun saw service in the Falklands War (in its L4 version) and was only withdrawn from service in 1992. The cost of manufacturing a Bren Gun in 1940 was £40 (£1,792 or 2,981 CAD in 2023). Thousands of Bren Guns were delivered to the resistance networks by the Special Operations Executive (SOE).
The Bren Gun was a gas-operated weapon using the same .303 British Mk VII Cartridge as the standard British bolt-action rifle № 1, № 4, and № 5, firing at a rate between 480 and 540 rounds per minute (rpm), depending on the model. There was one Bren Gun per section and a total of 39 per infantry battalion. The Bren Gun was operated by a team of two soldiers: a firer (number 1) and a loader (number 2) who carried a pair of Utility Pouches (holding three magazines each), a machete, and a spare barrel.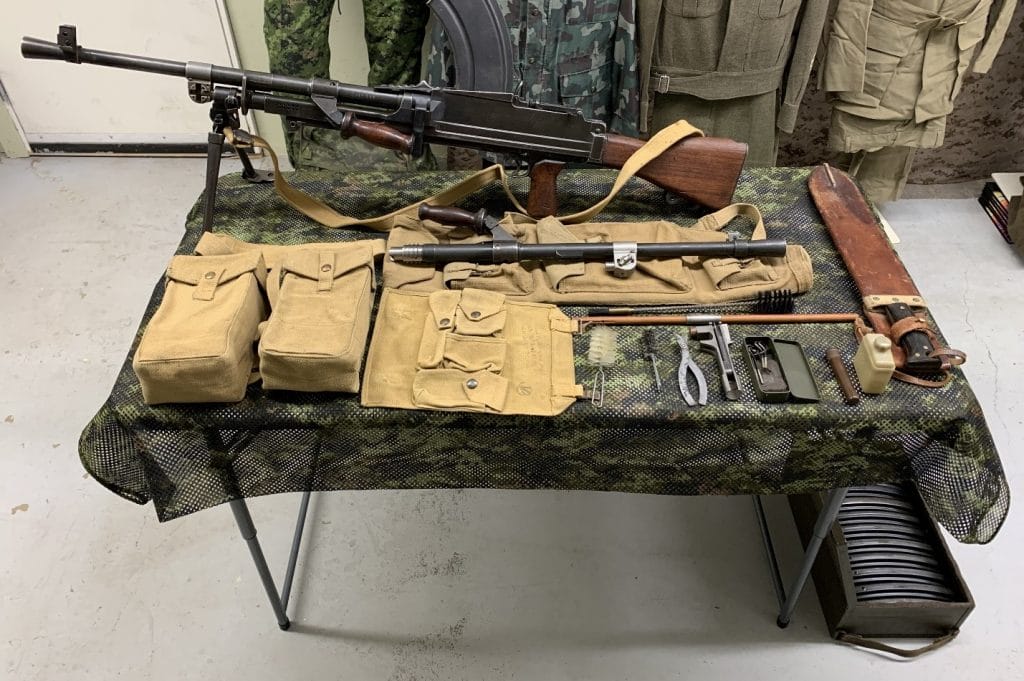 Here is the list of items that were displayed. 
The Second World War Bren Gun Girl
When we think of the Bren Light Machine Gun of Second World War, for many of us the image of that pretty smoking woman sitting next to the machine gun immediately comes to mind. As in the First World War, women replaced men in armament factories. This is how the Canadian government, in collaboration with the National Film Board of Canada, found a face that would rally millions of women in the factories. Veronica Foster worked for John Inglis Co. in Toronto, assembling Bren light machine guns. Her natural beauty made her the perfect model for the national propaganda poster campaign, and she became "Ronnie the Bren Gun Girl."
In her most famous photograph, Ronnie sports curve-hugging overalls while effortlessly exhaling smoke from her cigarette as she admires her newly assembled Bren gun.
The perfect blend of femininity and women's liberation, Ronnie was the subject of a public enthusiasm, so much so that the United States decided to create its own female war icon. And so, Ronnie's headscarf and can-do attitude were pass on to the well-known American propaganda image of "Rosie the Riveter".
There will be more to see from our Quartermaster so…come to see us! The VPA's "micro" Museum is located at SEBARMS Guns, Gear and Collectibles, 11569 – 149 Street, Edmonton, Alberta, T5M 1W9. The museum hours of operation are:

The museum's hours of operation are:
Tuesday: from 10 to 15 hours.
Wednesday: from 10 to 15 hours.
Thursday: from 10 to 15 hours.
Friday: from 10 to 15 hours.
Until next time,
The Quartermaster