CANADIAN FORCES RIFLE FNC1 A1 7.62 MM
This week the Quartermaster's display was a little different.  Valor Park Association (VPA) was present at a very unique event: the Canadian Forces Paratrooper Veterans' Five-Year Reunion held at the Edmonton Inn Hotel from 2 to 4 June 2023. 
In his desire to bring back memories in the minds of former military paratroopers, Claude Villeneuve brought his collection on the Canadian Rifle FNC1 A1.  
RIFLE 7.62 MM FNC1 A1
Following lessons learned from the Second World War and the adoption by NATO countries of the US-designed 7.62×51 mm cartridge (similar but not identical to the .308 Winchester), Canada adopted in 1954 the rifle FNC1 to replace the venerable bolt action rifle № 4 chambered in .303 British (7,70 mm).  The FNC1 was itself later replaced in 1985 by the rifle C7, chambered in 5.56×45 mm.  Canada was the first NATO country to use the rifle, which was later used by many militaries around the world. 
The rifle is a semi-automatic, self-loading, gas-operated, and magazine-fed weapon produced by Canadian Arsenals Limited (CAL) of Toronto under licence from Belgian armaments manufacturer "Fabrique Nationale" (FN) Herstal.  For winter use, the trigger guard can be fold into the pistol grip, allowing to wear mitts when firing the weapon.  72,470 rifles were built (Clive Law, Without Warning, p. 71). 
USERS
The rifle had different users:  
Royal Canadian Navy (RCN): The RCN obtained 8,242 FNC1 A1D, a special full-automatic version used by naval boarding parties. 
Royal Canadian Mounted Police (RCMP): 493 were acquired by the RCMP, all in the 7Lxxxx range of serial numbers. 
Ontario Provincial Police (OPP): the number used by the OPP is unknown.  All were in the 8Lxxxx range of serial numbers. 
Dominion of Canada Rifle Association (DCRA): members were allowed to legally purchase the rifle for Service Rifle competition.  Like for the OPP, the number is unknown.  Colin MacGregor Stevens mentions on his website that "NavyShooter" estimated the number to about 300. 
TECHNICAL CHARACTERISTICS
Weight: Approximatively 11 lb (5 kg). 
Type/Calibre: 7.62×51 mm NATO cartridge.  The different cartridges used were:
C1 Ball: war ammunition, no marking,
Tracer: for target indication, Red tip,
Armour Piercing: for use against unarmoured vehicles with 10 gauge mild steel plate, Black tip,
Armour Piercing Incendiary: for igniting fuel of lightly armoured vehicles, Grey tip,
Observing: for target identification, emitting puff of smoke, Yellow tip,
Incendiary: for setting fire to inflammable materials, Blue tip,
Dummy (fluted): for drill purpose, nickel plated,
C24 (Blank): for training, simulating live fire; and
C33 Ballistite: for launching grenade. 
• Magazine: 20 rounds, box type, double feed.
• Rate of Fire: 675-750 rpm.
• Sight:
1. Foresight: Blade,
2. Backsight: Folding disc sight with aperture from 200 to 600 yd (183 to 550 m),
3. Battle: 200 yd (180 m), and
4. Sniper: from 0 to 1000 yd.
EQUIPMENT
The following equipment could be fitted on the rifle:
Bayonet: the rifle saw the return to a "knife" type bayonet from the previous "spike" type bayonet used with the № 4 rifle.
Grenade, Launcher, L1A2: the sight is graduated in 25 m (27 yd) increments from 50 to 100 m (55 to 110 yd). The launcher consisted of three parts:
1. Main Launcher Assembly,
2. Adapter, Grenade, Projection M1A2; and
3. Cartridge, Grenade C33.
Conversion Kit 7.62 Millimetre Rifle .22 Inch Caliber L12A1: the kit, made by Heckler & Koch of Germany, is a training aid enabling 0.22 in ammunition to be fired from a standard 7.62 mm FNC1 A1 rifle by inserting a reduce barrel into the rifle barrel. It consisted of four parts:
Barrel Rifle,
Breech Mechanism Assembly,
Two Magazine Assembly; and
Case, 7.62 Rifle Conversion Kit.
Night Vision Sight, AN-PVS/502. considerate the first-generation image intensification. It was a US Gen I 3-stage tube and housing made by VARO, Texas. They had an adjustable gain tube, adjustable brightness reticle, and had the same windage/elevation controls as the PVS-4. Groups are around 1″-2″ at l00 yd. It consisted of four parts:
Night Vision Sight, AN-PVS/502
Adaptor,
Mount; and
Case, Carrying.
Telescope, Sniper C1: made by Ernst Leitz Canada Ltd of Midland, Ontario. Only 305 Scope C1 were acquired (Clive Law, Without Warning, p. 71) so they are quite rare. The Telescope was withdrawn from the Regular Force in 1976. Lateral adjustment was accomplished by rotating the objective mount to the right of left of centre. Adjustment was provided with clicks of ½ mil. Range adjustment was accomplished by rotating the eye mount. Adjustment was provided with clicks of ½ mil. The range drum was graduated up to 1000 yd in 100-yd increments. An additional adjustment of 3 mils (6 clicks) was provided at each end of the scale to allow for zero. It consisted of seven items:
Telescope Sniper C1,
Cap Assembly, Telescope Lens,
Cloth Cleaning, Lens,
Cover Assembly, Adapter,
Screwdriver, 4-inch lg, 1/8-inch blade,
Mount, Telescope C2; and
Case, C1 Sniper Telescope.
Once upon a time… in Canada!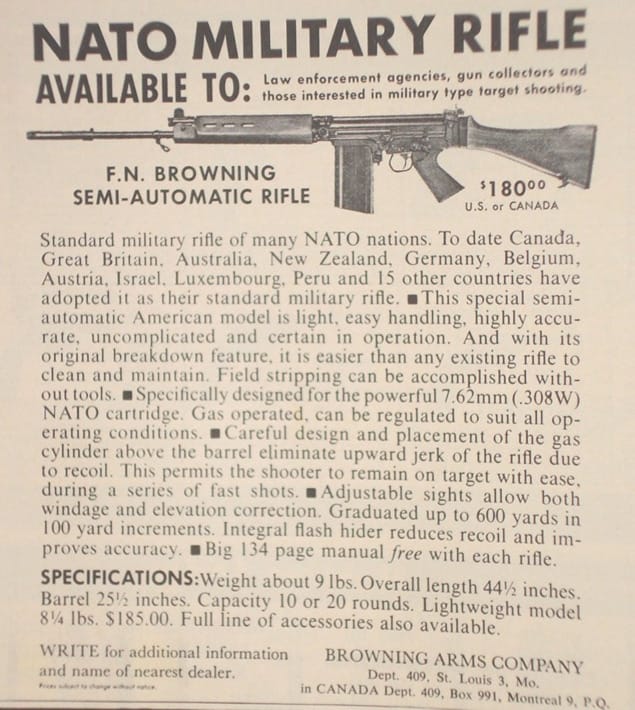 There will be more to see from our Quartermaster so…come to see us!  The VPA's "micro" Museum is located at SEBARMS Guns, Gear and Collectibles, 11569 – 149 Street, Edmonton, Alberta, T5M 1W9.  The museum's hours of operation are:
The museum's hours of operation are:
Tuesday: from 10 to 15 hours.
Wednesday: from 10 to 15 hours.
Thursday: from 10 to 15 hours.
Friday: from 10 to 15 hours.
Until next time,
The Quartermaster