WWII STEN MACHINE, CARBINE MK II, II (S), III, AND V
This week's exhibit at our "micro" museum located at "SEBARMS Guns, Gear and Collectibles" focused on some of the sub machine guns used by Commonwealth troops during the Second World War.  
Today, Claude Villeneuve of Valor Park Association (VPA) brought four STEN Machine Carbines: the Mk II, Mk II (S), Mk III, and a Mk V.  
At the beginning of the war, Britain had very few sub machine guns (SMG), called "Machine Carbine" by the British.  Therefore, at the beginning of 1940, it was decided to adopt the American Thompson M1928 submachine gun.  However, the Thompson was excessively expensive and required many hours to manufacture.  With the entry of the United States into the war in December 1941, the supply of submachine guns had become problematic.  In order to rapidly equip the British and Commonwealth Forces, particularly after the rout at Dunkirk (Dunkerque – 26 May to 4 June 1940), the Royal Small Arms Factory (RSAF) Enfield was commissioned to produce an alternative.  
The STEN was designed as a simple to build and cheaper replacement for the American Thompson Sub Machine Gun which cost 200 USD in 1939 (about 4,340 USD in 2023) and still 70 USD in 1942 (about 1,300 USD in 2023), whereas a STEN would turn out to cost only 11 USD (about 203 USD in 2023).  Using a detachable 32-round magazine, it fires a 9mm Parabellum round which allowed for the use of the German's ammunition.  Initial design began on 2 December 1940.  The STEN was designed by Major R. V. Shepherd, OBE, Inspector of Armaments in the Ministry of Supply Design Department at Woolwich Arsenal and Mr. Harold John Turpin, Senior Draughtsman of the Design Department of the Royal Small Arms Factory (RSAF) Enfield.  The word "STEN" stands for Shepherd (S), Turpin (T), and Enfield (EN) where the initial sub machine guns were originally made.  STEN Mk I and Mk I* were primarily issued to ancillary troops and Home Guard to relieve shortage in rifle production.  About 300,149 were produced by Singer Sewing Machine Company in Scotland.  STEN Mk I and Mk I* were declared obsolete in September 1947.  Considered complicated to produce, the STEN Mk I and Mk I* were replaced by the STEN Mk II.  
The design modifications were completed on 31 March 1941, taking only 7 days.  The most noticeable differences from the Mk I is the removal of all the wood furniture of the Mk I and the flash eliminator.  The Mk II was a simplified model which allowed for easy disassembling for paratroops.  It was initially fitted with Butt № 2, Mk II ("T" shape).  To reduce cost, the STEN Mk II will be fitted also with Butt № 3, Mk I ("skeleton" shape).  Production was to have ceased in 1943 in favor of the Mk III, but the superior qualities of the Mk II kept it in British service until 1957.  About 2,600,000 STEN Mk II were manufactured.  They were made at Royal Ordnance Factory (ROF) Fazakerley (about 1,083,000); Birmingham Small Arms (BSA) Guns Ltd, Shirley and Tysley plants (about 404,383); ROF Theale (about 95,000); Small Arms Ltd, Long Branch, Ontario, Canada (about 133,497 which almost half ended up in China through Mutual Aid).  Royal Small Arms Factory (RSAF) Enfield and Wellington, New Zealand produced the rest.  Many were delivered to the resistance networks by the Special Operations Executive (SOE).  
Requested by Commandos for use during raids and later from European underground organisations, the STEN Mk II (S) was developed in late 1942.  It was not "officially" introduced until April 1945 when it was declared obsolescent at the same time.  The "S" stands for "Special Purpose".  The bolt was lightened, and two coils were removed from the recoil spring to allow reliability with subsonic ammunition.  It was recommended to fire the STEN Mk II (S) only one shot at a time or short bursts of no more than three rounds so as not to burn the suppressor baffles.  About 5,776 STEN Mk II (S) were produced at either ROF Fazakerley (3,111) or ROF Theale (2,665).  Many were delivered to the resistance networks by the Special Operations Executive (SOE).  
Designed and manufactured by Lines Brothers, Ltd., the STEN Mk III was made by stamping a rolled sheet of steel, giving it a distinctive seam.  It was fitted with Butt № 2, Mk II ("T" shape – BE 9952).  An unpopular cast aluminium bronze bolt (Mk I* Part № B3/BE 8582) manufactured as a wartime expediency was used as a stop-gap to cope with the increased production of other components.  The magazine well was welded in place and therefore, could not be rotated like the STEN Mk II and Mk V.  Several parts were not interchangeable with the STEN Mk II, so the STEN Mk III was used mainly by non-front-line troops, Home Guard, and Glider Pilot Regiment.  In September 1943, it was decided that the Mk II was a superior weapon, so the production of the Mk III was terminated later that month.  Over 876,000 STEN Mk III were produced.  Substantial number of STEN Mk III were delivered to the resistance networks by the SOE.  The STEN Mk III saw extensive post-war service in the Finnish Army. 
STEN Mk IV was an experimental model.  It did not enter production due to the success of the STEN Mk V.
Often referred as the "Airborne" pattern, the Mk V first used was in during the Normandy Invasion.  This pattern as has a solid wood stock , a wood fore and pistol grips.  It also had a lug to accept a bayonet (either the "spike" № 4, the "blade" № 7, or № 9 after the war).  Requiring 12 man-hours per gun, its cost was estimated to 19.81 USD in 1944 (339.74 USD today).  Over 527,000 were produced between February 1944 and May 1945.  They were produced at ROF Theale (about 169,823) and ROF Fazakerley (about 367,605).  The front grip was declared obsolete on 1 June 1945.  Obsolete in 1956, it was replaced by the Sterling "Sub-Machine Gun L2A1'.
In 1941, there was a limited production capability for the 9mm ammunition in Great Britain.  The "Cartridge, Small Arms, Ball, 9mm Mk IZ" was introduced in late 1941.  By September 1943, the Mk 2Z was introduced and the Mk IZ was declared obsolescent in November 1944.  The Mk 2Z was similar to the German ammunition.  Heavy loaded it was better suited for sub machine gun.  Mk 2Z used a full metal jacketed 115-grain bullet travelling at 1,300 feet/second with a muzzle energy of 431 ft/lb.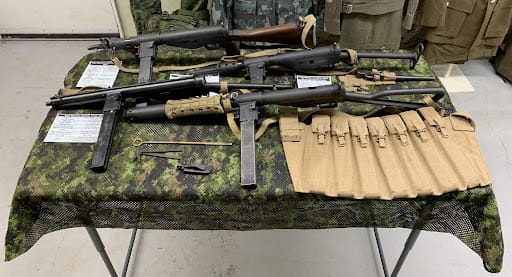 Here is the list of items that were displayed. 
The PIAT has a unique place in Canadian military history. During the Battle of the Savio River in Italy, on the night of 21-22 October 1944, Sergeant Ernest Alvia "Smokey" Smith of the Seaforth Highlanders of Canada won the Victoria Cross (VC) for his brave actions in defeating a German Panther tank with a PIAT.
There will be more to see from our Quartermaster so…come to see us!  The VPA's "micro" Museum is located at SEBARMS Guns, Gear and Collectibles, 11569 – 149 Street, Edmonton, Alberta, T5M 1W9.  The museum hours of operation are:

The museum's hours of operation are:
Tuesday: from 10 to 15 hours.
Wednesday: from 10 to 15 hours.
Thursday: from 10 to 15 hours.
Friday: from 10 to 15 hours.
Until next time,
The Quartermaster